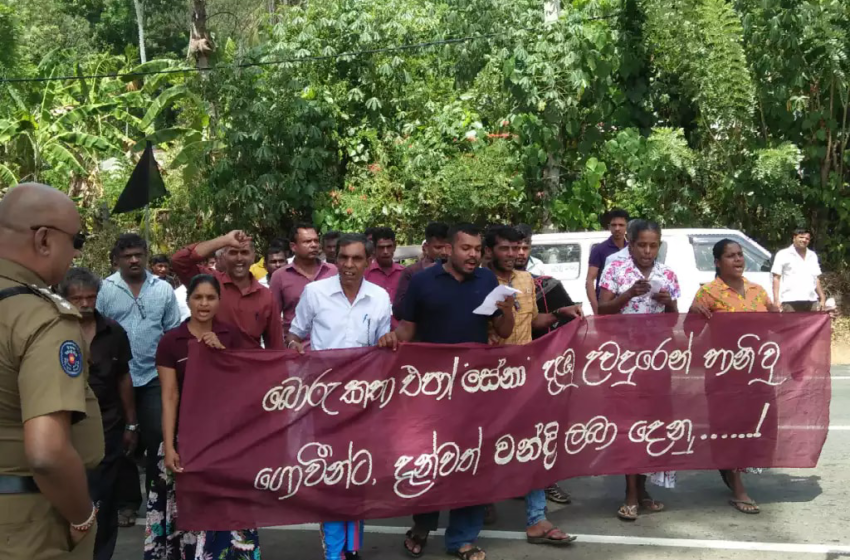 Farmers Struggle Movement organized a protest on 29th July 2019 demanding compensation for 'Sena Caterpillar' epidemic.
It's called 'Armyworm' because of the army-like nature, where large numbers march into an area and feed on lawns, turf and various plants in the garden, swiftly decimating expansive areas of vegetation. Lawn Armyworm can develop rapidly into near plague proportions and quickly cause significant damage in the garden.
සේනා දළඹුවට උත්තර නැති ආණ්ඩුව රටක් සංවර්ධනය කරන්නේ කොහොමද? - පුබුදු ජයගොඩ
මේ වන විට 'සේනා දළඹුවා' නමින් හැඳින්වෙන දළඹු විශේෂයක් රටපුරාම පැතිරෙන අතර කෘෂිකරම්මයට අදාළ බෝග විනාශ වෙමින් පවතී. මේ නිසා ගොවි ජනතාවට ජිවත්වීම පිළිබඳව හා ලංකාවේ ආහාර සුරක්ෂිතතාව පිළිබඳ ප්‍රශ්න ගණනාවක් මතුවී තිබේ. මේ සම්බන්ධයේන් පක්ෂයේ අදහස ඉදිරිපත් කිරීම සඳහා පෙරටුගාමී සමාජවාදී පක්ෂය විසින් පැවැත්වූ මාධ්‍ය සාකච්ඡාව… මෙම මාධ්‍ය සාකච්ඡාවේ අදහස් දැක්වීම පක්ෂයේ අධ්‍යාපන ලේකම් පුබුදු ජයගොඩ සහෝදරයා විසින් සිදුකළ අතර රංජිත් පියතිලක සහෝදරයාද මේ සඳහා සහභාගි විය.